Reminder: Spirit shirts forms and money are due tomorrow!
Open House will be held on September 26th at 6:00pm.
Hedley Owl spirit shirts are on sale now! All orders are due September 1 , 2022 and payment is due at the time of order. Thank you! GO OWLS!
Meet the Owls will be held at 6:00 pm on Tuesday the 23rd at the football field.
Reminder, If you have not registered your child or turned the paperwork for your child in please do so by Friday August 12th. Thank you.

Summer School will continue through the 30th of June. Lunch will not be served the 29th or 30th, so busses will leave the school at approximately 11:45 on those days. We hope everyone is having a wonderful Summer!

The deadline to order your yearbook has been extended. Get yours TODAY for just $40! Don't miss out! Go to
www.treering.com/validate
and enter Hedley School's code 1016372975313234

Next year's incoming 6th, 9th, and 11th graders will be going to Clarendon Family Medical Clinic tomorrow for Physicals. They will be leaving the school at 12:00 to begin physicals at 12:30. Forms will be available at the school or by this link:
https://5il.co/1ay6r

Hedley High School Activity banquet will be held on Thursday, May 19th at 6:30 p.m. in the school cafeteria. Tickets are $12 each and are required to enter the banquet. Students that participated in any of the events do not have to pay. We need a headcount and tickets purchased NO LATER than 10:00 a.m. on May 16th. The money needs to be turned into Tanya Burton in the main office. The meal will be ½ pound burgers, fries, and cobbler catered by Stephen Maddox at Fat and Happy BBQ. Only parents and high school students that participated in an extracurricular activity are able to attend this event due to limited seating. Thank you!!




Kindergarten, Eighth Grade, and Class of 2022 graduation pictures will be taken on Tuesday May 3rd. Pictures need to be prepaid. Thank you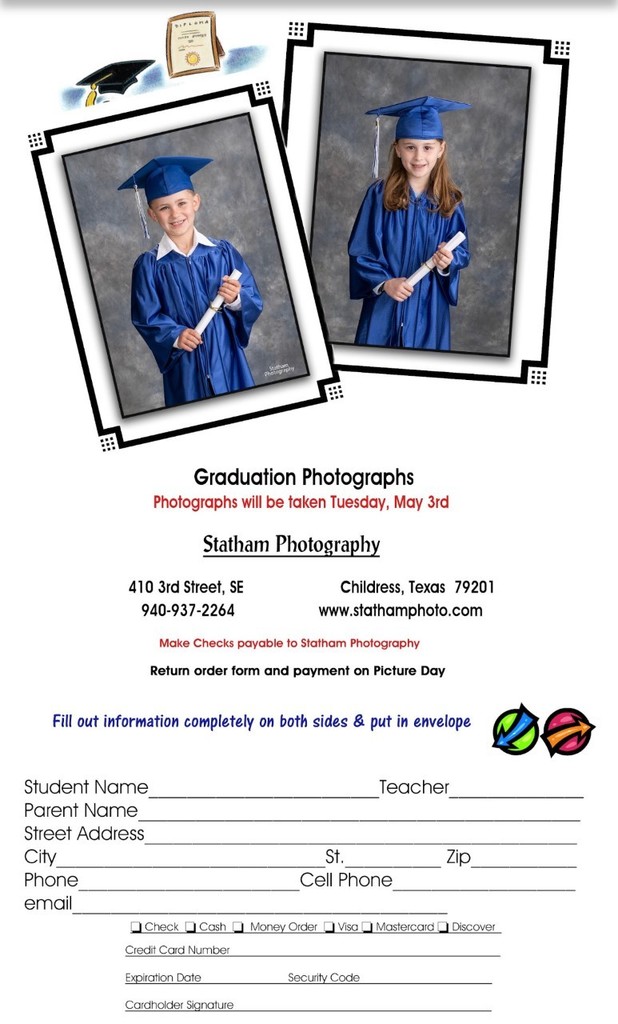 Good luck at Regional Track today, Hayden and Josh!!!!

PUBLIC ANNOUNCEMENT OF REFERRAL PERIOD PUBLIC NOTICE Hedley ISD is now accepting referrals for students who may need Gifted/Talented Services for the school year. This program is designed for students who exhibit intellectual and creative thinking abilities at an extraordinary level not normal served in the regular classroom. Services are provided only upon identification of education needs of the student. Anyone wishing to refer a student attending Hedley ISD in 2nd through 12th grade this school year is asked to go by the student's campus office and request a copy of the referral form. This form must be returned to the school by April 22nd. Those unable to go by the office should call the office and request a form be sent home or get a copy off of the school website.

Dress your best for picture day tomorrow. Remember, if you are purchasing group pictures or sports pictures, please bring money to pay for them. Proofs will be sent out for spring casuals. Everyone will be photographed.

Spring Pictures- There was an error on the photo order form. ALL PHOTOGRAPHS will be taken on Wednesday, March 30. If you are purchasing a class group picture, or sports pictures, you will need to bring money to pay for them. Individual pictures will be sent a proof at a later date to place an order. We are sorry for any confusion this may have caused.

Wednesday, March 30th is spring picture day. We will be photographing ALL students- individually, and in a class group picture. Spring sports pictures will also be taken. Individual pictures will be given a proof to order, and group pictures must be paid in advance. Tennis and track pictures will also be taken, and must also be paid in advance.
The ring ceremony for the Junior class will be held in the Hedley ISD gym at 11:30am on the Wednesday, April 13. Thank you.
The ring ceremony that was planned for the junior class will not be tomorrow, Monday 21, 2022. It is being rescheduled. More information will follow when we have a new date.