Hedley One Act Play will be doing Dessert Theater for the public on March 27th. Desserts will be from 6:00 pm - 7:00 pm They will start their performance at 7:00pm Thank you
Please join us as the Hedley One Act Play puts on a show

Diagnosticians Week is March 6 - 10. Every year a week in March is dedicated as Educational Diagnosticians Week. These professionals help provide our next generation of leaders with the foundational skills on which they can build a lifetime of success. They undergo specialized training and use academic and psychological tests to recognize factors that could enhance students' performance in the classroom.

Congratulations Joshua Booth!

Congratulations to Hedley OAP. They are advancing to Bi-District competition. Best Lights-Liam, Honorable Mention All Star Cast -Joshua Booth and Kali Curry. All Star Cast- Savannah Trent and Javier Valles. Go Owls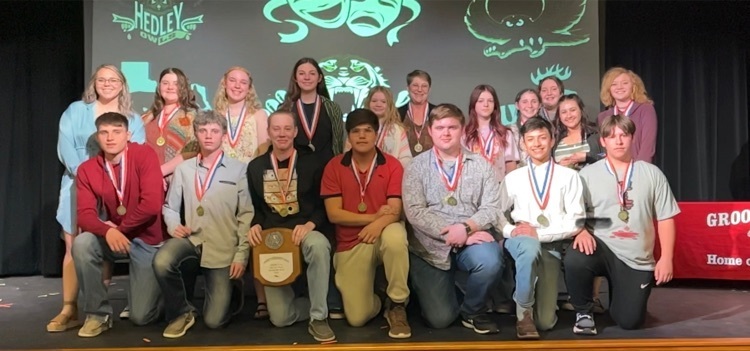 Next Monday 2/13, the junior high girls and boys basketball teams will play again. It will be our last junior high game. It will be held in Hedley at 5:00pm against McLean. Go Owls.
The Jr High basketball games that were scheduled for this Thursday have been moved to this Friday 2/3. The Jr high girls game will begin at 4:00pm in Groom with Jr high boys immediately following. Varsity Girls will play at 6:00pm with varsity boys following after the girls. Thank you
Hedley will have a late start tomorrow, Wednesday 1/25/23. Classes will start at 10am in the morning. Buses will run 2 hours late. There will be no breakfast service in the morning. Thank you.
Due to inclement weather, Hedley ISD will cancel classes today, Tuesday 1/24/23. Have a great snow day and we will see you Wednesday.
Due to inclement weather forecast and potentially hazardous road conditions, Hedley ISD will start classes at 10:00am tomorrow, 1/24/23. Buses will run 2 hours late. There will be no breakfast service tomorrow morning. Thank you.
Due to incoming bad weather, Tuesday's varsity basketball games have been moved to Monday night. Games will begin at 5:00pm in Hedley. Come support the Owls and Lady Owls! Thank you.
Tonight's varsity basketball games will begin at 6:00pm. There is no JV game. Thank you.
Help Hedley ISD help those in need! Hedley ISD Canned Food Drive!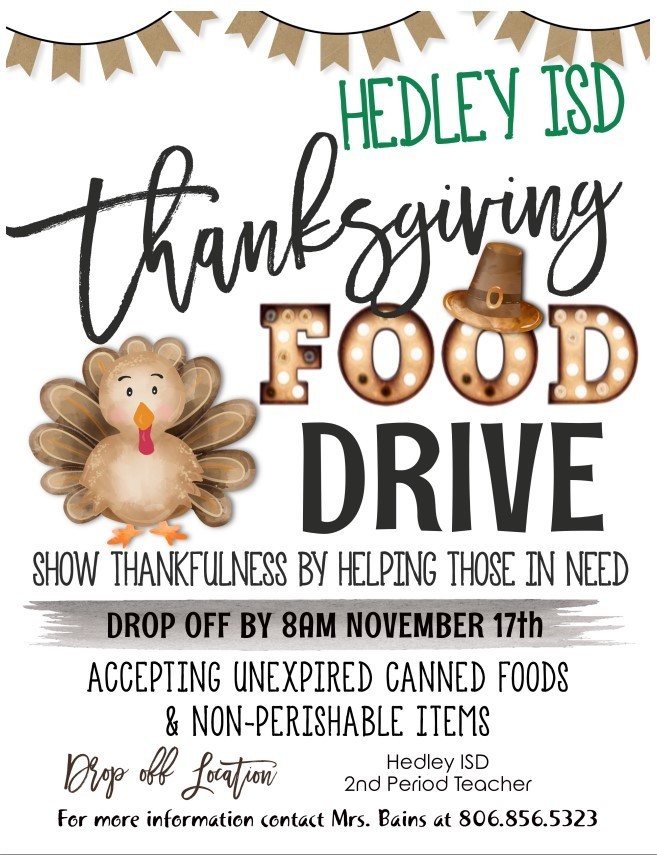 The send-off will be today at 2:50 by the football field! GO OWLS!!
Reminder: Open house will be tonight at 6:00pm!

Blood Drive at Hedley ISD 11 am-3 pm today in the Library.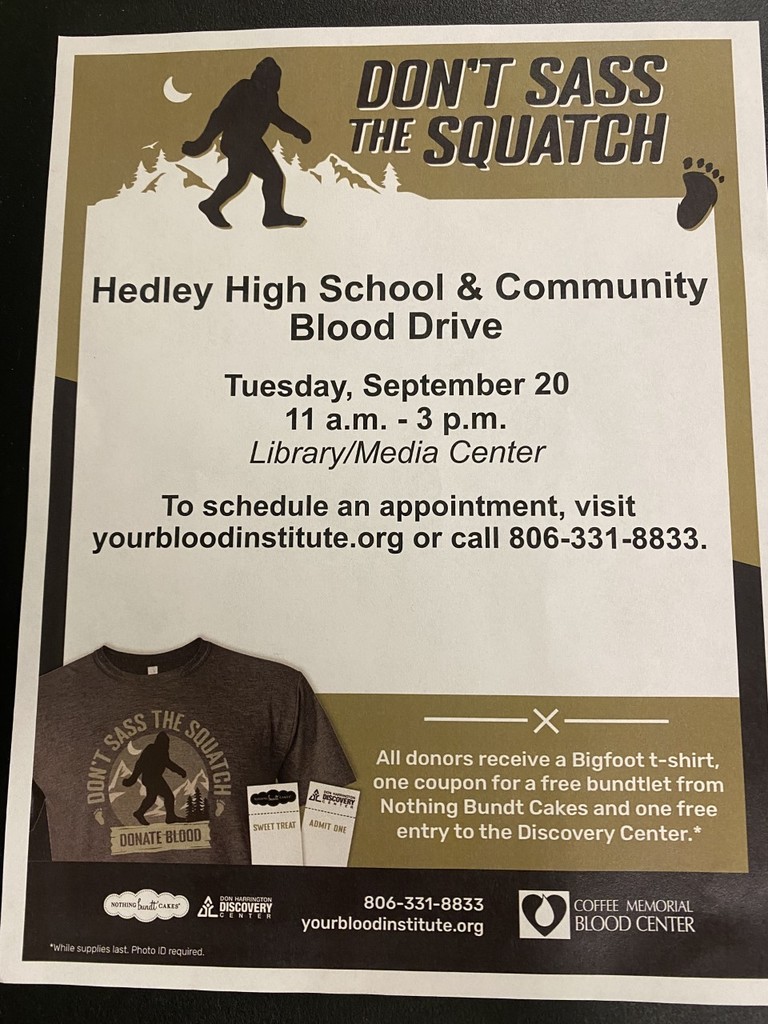 PreK-1st grade parents' permission slips for the upcoming Amarillo Zoo field trip are being sent home today. Please select your child's choice of lunch and sign and return the form to your teacher no later than this Thursday September 22nd.
Open House will be September 26th at 6:00pm!
Tomorrow the will be a send off at 1:45pm by the football field! Go Owls!